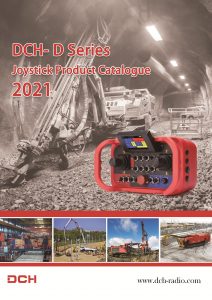 Dimensions: 270mm*160mm*100mm
Weight: 1500g-2000g (depending on configuration)
Antenna: inside or outside
Start Mode:press start button for 2 seconds
Emergency:conforms to EN13849-1 standard.
Housing:PA66 +30%GF plastics
Protection Class:IP65
Panel components: max 48 DI input (toggle/knob/rotate switch, button etc,.)+4 AI input(joystick or potentionmeter).
Two sides functions: start+another 7 buttons functions
Intelligence key: DCH iKey
Distance:≥150 meters(open environment)
Temperature range: -25℃~+70℃
Frequency: 433-434MHz;
Display:3.5# LED Display to show Signal / battery status and the data from receiver etc,.
Joystick life: ≥2,000,000 times
Power supply:Li-iron battery 3500mah 7.4VDC
Charging time:3 hours to 100%
Continuous working time: 30 hours (at room temperature)
Automatic shutdown: 15 minutes or 30 minutes
Add function: safety shutdown function, Vibration alarm and wired control Panel text is decided by customer. DCH-D series receiver can have DO,AO,PWM ,Canopen,Profibus-DP,Profinet,Can, RS485,Devicenet,J1939 output. ETC,.
Typical applications: cranes, truck mounted cranes, aerial work vehicles, crawler cranes, excavators, grinders, shotcrete machines, spreaders, wet sprayers, ship unloaders, agricultural tractors, track laying machines, tower cranes, Mobile crushers, pump trucks, towing pumps, drilling rigs, AGV, shield tunneling machines, sanitation vehicles, fire engines, electric construction vehicles, spreaders, chain arm saws, rock drills, agricultural equipment, Special robots, engineering vehicles, locomotives, special drilling equipment, mining equipment and other complex equipment with display screen.
If you need more information about this model, please contact us by Allen.xu@dch-radio.com
Product Inquiry